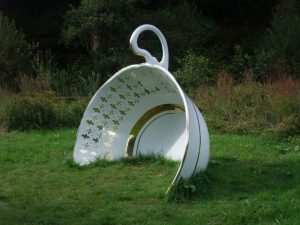 Whoa! Not one, but two Mil Lel students showcased for week 24! That week the prompt was that of a giant teacup,  half-buried in the ground.
That week was special, because the students first wrote their piece, then got into groups to brainstorm together how to better their writing through the use of descriptions using the 5 senses… And the results speak for themselves…
Mrs Gagnon from the U.S. commented on Zac's piece: Zac,
"Your piece put me in mind of Alice in Wonderland. I like how you used the scenario to inspire the verse. Your word choices : exploding, roasted, desperate, and blaze were all appealing to my senses…"
Do you agree with her? Visit Zac's blog to read his unusual response to the prompt. Zac's writing partners were Jorja M, Ava, Elwood, Dean and Rachel.
"I heard the sound of the teacups rattling on the table – that was just before the scream of the people in the street started…" this is an extract from Shaunn's story. Mrs McKenzie from New Zealand congratulated Shaunn on crafting his writing for maximum impact… read the rest of his story here. Shaunn's writing partners were Alex, Izzy, Jocelyn, Charlotte and Charlie.
To read all the stories that were showcased that week, head here.