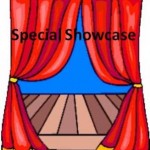 "There once lived a very large family of lions. There was 18 lionesses  and 23 lions. But only one lioness that really wanted to dance, she was going to be the only lioness to dance."
This is the start of Caitlin's latest 100 word challenge, which has just been showcased! To read Caitlin's short story, click here.
It is so exciting to have another Yahl writer showcased! I can't wait to tell the kids on Monday!
Visit the 100 Word Challenge Showcase to view all the imaginative stories that were selected for week 30.
Visit our students' individual blogs to read their weekly entries.
Leave them a comment!