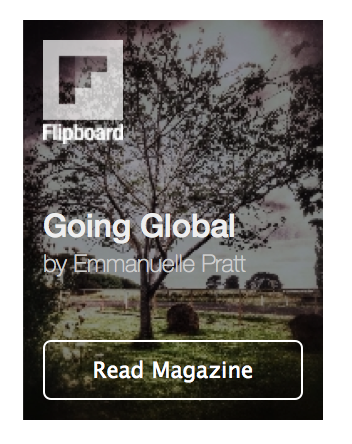 The technology we have at our fingertips, and the incredible possibilities offered to us never cease to amaze me… Here we are, 8 months into our first blogging experience, and we actually have created our own magazine, thanks to "Flipboard".
Do click on the image above, or on the widget on the left hand side, and you'll be taken to our very first Going Global magazine. In this very special edition, you will find a selection of the most exciting blog posts from our class blog: exciting because they corresponded to milestone events for our class… our excursion to see the amazing Chooky Dancers, or when our class poem was first published… there were many such thrilling moments in 2014.
The magazine also showcases posts from each of our students. The posts have been selected to show the variety of media that the students have learned to use this year, to create interesting and stimulating content.
As this year draws to an end, I'd like to thank the amazing and tireless educators who make blogging such a rewarding and stimulating experience for students and teachers worldwide. My heartfelt thanks go to Sue Wyatt, who organises the wonderful Student Blogging Challenge, and to Julia Skinner, the creator of the ever-inspiring 100 word challenge.
We have learnt so much this year, I can't wait for 2015, to start all over again!  😉